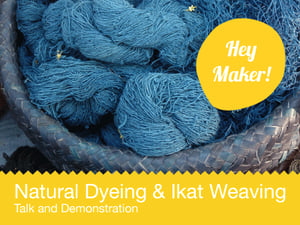 $

18.00
We are pleased to share the magic of "Studio Naenna" with you as Lamorna Cheeseman talks us through the process of natural dyeing.
Studio Naenna, Thailand, is built on 25 years of ecological sustainability and fair trade ethics. Their "Weavers for the Environment" come together from around Thailand to exchange knowledge of natural dye techniques. The studio is a place of inspiration helping women to realise their potential as income earners and respected members of their community.
After the talk we are in for a treat, a natural dye demonstration with the very experienced and very talented Anne Leon. You are welcome to bring along some natural yarn to throw in the dye pot.
Can't wait, its going to be a juicy night of inspiring textile creativity. Both Lamorna and Anne will have a selection of beautiful textiles for sale. Perfect timing for Mothers day gift shopping don't you think?
Where: The Autumn Club (next to the Murwillumbah Library)
When: Thursday 11th April, 7-9pm
Hey Maker! members don't forget to use the discount code on the back of your membership card.